I am an associate researcher in the Department of Human Oncology. My primary focus is on brachytherapy—the treatment of disease using radiation over short distances, primarily using radioactive materials. I am responsible for the treatment planning, safety and administration of brachytherapy procedures at the University of Wisconsin Hospital. My previous role in the department was oversight of the TomoTherapy program from 2008 to 2010. Since joining the department in 2007, I have been responsible for the education of radiation physics residents and radiation therapy interns with regard to brachytherapy. My research focus includes improvement in MR/CT imaging for brachytherapy and improved administration and treatment planning methods for brachytherapy. I currently serve on the Human Radiation Use Committee (HRUC).
Education
MS, University of Wisconsin–Madison, Medical Physics (2007)
BS, Michigan State University, Physics (2005)
Academic Appointments
Associate Researcher, Human Oncology (2013–pres.)
Assistant Researcher, Human Oncology (2007–2013)
Boards, Advisory Committees and Professional Organizations
American Association of Physicists in Medicine, Member (2005–pres.)
Diplomate of The American Board of Radiology (DABR), Therapeutic Medical Physics (2011)
Improving accuracy of brachytherapy treatment delivery
Brachytherapy treatment is only accurate if the imaging performed of the applicator with respect to the patient closely approximates the geometry of the actual treatment. This can be realized with improved imaging techniques, management of patient motion, better workflow to reduce total procedure time and robust treatment planning techniques.
For nearly two decades, balloon-based high dose-rate applicators for irradiation of breast lumpectomy cavities has been an effective treatment for women with early-stage breast cancer. Recently, our institution developed a novel double-balloon applicator that allows for a customizable distance of the radiation source from the breast tissue. However, this customizability may potentially result in dose distributions that could under-cover the target or cause unnecessarily high dose to normal tissue if the applicator is rotated from its intended position. The focus of this research is to assess the potential impact of rotation of the balloon during treatment and develop treatment planning methods that will minimize this discrepancy in the case of rotation without compromising target coverage.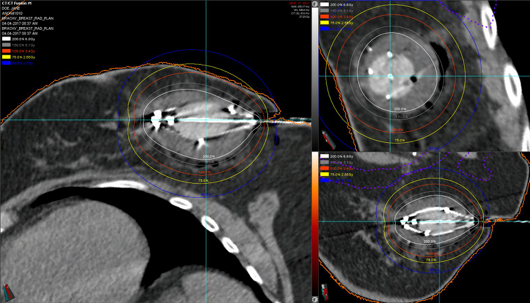 Low cardiac and left anterior descending coronary artery dose achieved with left-sided multicatheter interstitial-accelerated partial breast irradiation Brachytherapy
Witt JS, Gao RW, Sudmeier LJ, Rosenberg SA, Francis DM, Wallace CR, Das RK, Anderson BM
2019 Jan-Feb;18(1):50-56. doi: 10.1016/j.brachy.2018.08.014. Epub 2018 Sep 24.


More

PURPOSE: Studies have shown that an additional mean dose of 1 Gy to the heart can increase the relative risk of cardiac events. The purpose of this study was to quantify the dose delivered to the heart and left anterior descending artery (LAD) in a series of patients with left-sided breast cancer (BC) or ductal carcinoma in situ treated with multicatheter-accelerated partial breast irradiation (MC-APBI) at a single institution.

METHODS AND MATERIALS: Patients with left-sided BC or ductal carcinoma in situ treated consecutively from 2005 to 2011 with MC-APBI were retrospectively identified. Cardiac and LAD contours were generated for each patient. Cardiac dosimetry and distance to the planning target volume were recorded. Patient health records were reviewed and cardiac events were recorded based on Common Terminology Criteria for Adverse Events version 4.0.

RESULTS: Twenty consecutive patients with left-sided BC treated with MC-APBI were retrospectively identified. Median followup was 41.4 months. Mean equivalent dose in 2 Gy fractions delivered to the heart and LAD were 1.3 (standard deviation: 0.7, range: 0.2-2.9) and 3.8 (standard deviation: 3.0, range: 0.4-11.3) Gy, respectively. There was an inverse linear relationship (R2 = 0.52) between heart-to-lumpectomy cavity distance and mean heart equivalent dose in 2 Gy fractions. One patient (5%) experienced symptomatic cardiac toxicity.

CONCLUSIONS: MC-APBI consistently delivers average doses to the heart and LAD that are similar to those achieved in most series with deep inspiration breath-hold and lower than free-breathing radiotherapy techniques. Distance from the heart to the lumpectomy cavity and the availability of other heart-sparing technologies should be considered to minimize the risk of cardiac toxicity.

PMID:30262411 | PMC:PMC6338487 | DOI:10.1016/j.brachy.2018.08.014

View details for

PubMedID 30262411
'
Contact Information
Charles Wallace, MS
600 Highland Avenue Madison, Box 0600 Clinical Science Center,
Madison, WI 53792